The e-commerce industry is another year older. The trends for e-commerce websites for 2019 will woo the customers around the world with captivating features.

Ecommerce websites have something in it for everyone. Whether you're an entrepreneur looking for digital revenue stream, retailers looking to take on  ecommerce stores, web development company creating ecommerce portals, or a customer who is looking for more options. Ecommerce trends have everyone's attention.
As per statista, by 2021, over 2.14 billion people worldwide are expected to buy goods and services online, up from 1.66 billion global digital buyers in 2016. Are you geared up for the ecommerce challenge yet? Let's look at the fascinating trends for ecommerce websites.
1. Mobile first, desktop later
It's no secret that mobile phone has taken over the world. With the smartphones and internet connectivity, mcommerce is at an all time high.
Statistics show that 62% of smartphone users were recorded to have made an online purchase using their mobile device in the last 6 months. An online business needs to prioritise the mobile users today for ecommerce platforms.
The ease and effectiveness with which mobile users can operate your ecommerce portal can help your business grow faster.
2. Design Thinking & Visual Elements
Ecommerce portals will increasingly use more design thinking and visual thinking for attracting customers. Motion graphics, animations and attractive visuals are always eye catching. This is one reason auto-played videos are so popular on Facebook, Twitter and Instagram etc.

Design thinking is building the products and services with customers in mind. Every element of the ecommerce portal will be optimised with the end user in mind. Making every transaction on ecommerce portal frictionless will be the goal of businesses.
3. Fast tracking Delivery using Drones etc
56% of online customers expect same day delivery. One of the things in favor of retail stores is that consumers don't have to wait to get their products.
But things are changing fast. Companies like Amazon are now looking at various ways to deliver products without any delays to customers. Drone delivery could well be the way these products are delivered to customers very soon.
Consumers may expect quicker delivery of goods to their doorstep. The fast shipping methods and ever increasing speed of delivery will make things very exciting for the future.
4. Augmented Reality and Virtual Reality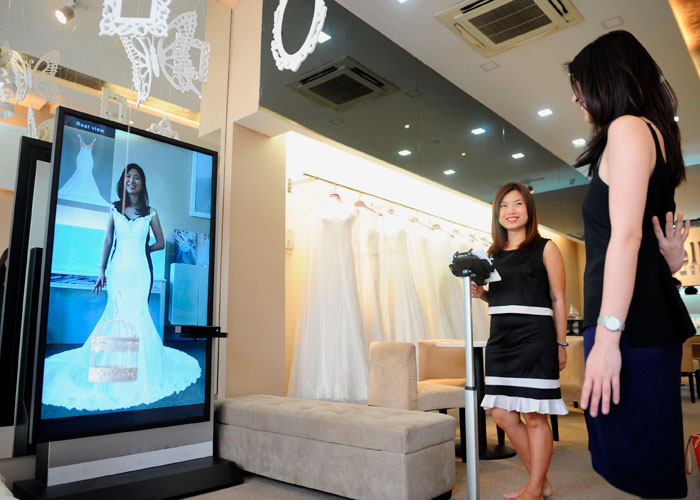 With the growing trends for online shopping, the fashion and apparel brands are not left behind. They are create ecommerce portals and doing everything to woo the online consumers.
The ecommerce sites offer great tools equipped with AR and VR for customers to try out dresses with online mirrors etc. The customers can try various colors, options using these AR and VR tools.
The next generation ecommerce websites will make the online shopping experience almost like a physical reality. In many ways, it will be even better with all the technology options and choices of the virtual world.
5. Automation and Chatbots
Automation software and chatbots are increasingly gaining traction in the way operations are run. As a consumer, you can interact with the chatbots for your queries and get more information.
A recent global market poll showed, 45% of consumers preferred using a chatbot for customer service purposes. More businesses are relying on chatbot and automation for customer interaction services.
6. Personalization
The web world is increasingly personalized according to your preferences. Whether it is the Google search history, your social media feeds or the product selection on your ecommerce website, personalisation is the name of the game.
Technology allows brands to get more familiar and cater to the users preferences.
The ecommerce websites are also running marketing campaigns and tailoring their item catalogues according to the user data.
7. Voice Search
Voice search is growing. It is one of the most convenient ways to get things done. In 2019, voice will be one of the compelling drivers of innovation in the ecommerce world.

The Amazon's Alexa, Google's Home, Apple's Siri, Microsoft's Cortana are some of the voice assistants that have sparked a voice search revolution.
More brands are now competing to create great user experience around voice search. Data from Walker Sands Digital indicates that almost 24% of consumers own a voice-controlled smart appliance such as an Amazon Echo or Google Home, and further 20% plan to purchase one in the coming year.

The voice searches are also resulting in ecommerce sales. The smart digital assistants recommend products to the customers. The ecommerce website operators will also look at options to provide voice search for buying and ordering items from the online store to augment customer experience.
8. Artificial intelligence
Artificial intelligence, or AI, dominates all technology discussions on the planet. It is ubiquitous and will be like electricity in the coming years. Ecommerce websites are also adopting the AI for learning more about their business, customer choices and preferences.
Analysis of big data using algorithms and self learning systems is becoming increasingly common, and ecommerce stores are experimenting with technology to improve their marketing, sales and overall business growth.
Everything from the way products are displayed to customers, product recommendations, offers and vendor choices will use AI and machine learning for ecommerce portals. The online businesses will be driven more by technology and algorithms.

9. Gamification & Loyalty Scores
One of the most amazing things on social media is the ability for users to share what they are doing. A lot of shopping is also driven by peer pressure and status symbol.
The ecommerce platforms, apps can make use of gamification for tracking loyalty and increasing sales. Users will be able to complete purchases without leaving the social media platforms and will also be able to share their status of purchases and loyalty scores etc.
The ecommerce portals could also run contests and have leaderboards for users who make highest purchases in various categories, locations and groups etc.
The ecommerce websites with gamification and loyalty scores could trigger a new competitive streak for users who want to make more purchases to win the game.