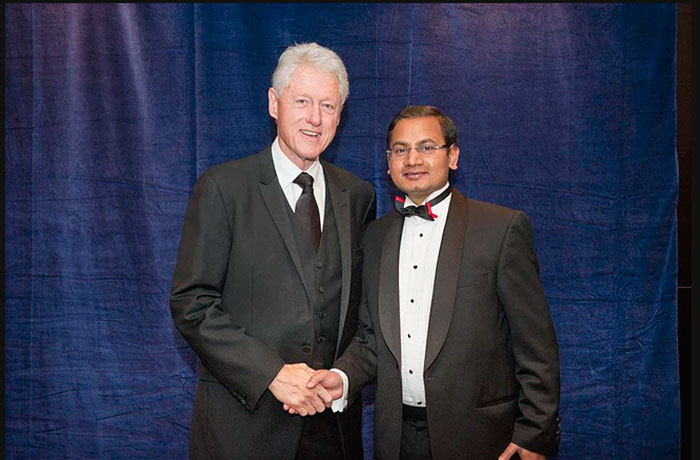 Vijay Goel is a familiar name in the UK business circles. He is currently the Chairman of Assocham, UK & former Chairman of ASIAN business association at London Chamber of Commerce. A Senior Partner at Singhania & Co. London, advisor to governments on policy matters and facilitating reach of India to all businesses around the globe.
Vijay is a recipient of several awards including law day award from President of India & Asian Achievers 'Award for Professional of the Year.' He is close to the power circles and wields influence on trade matters. He is also advising & working with the Indian government on Make in India initiative.
Kreyon Media recently interviewed Vijay Goel to get his perspective on success, achievements and future plans. Here are some amazing insights & valuable lessons from him.
How would you describe your journey so far?
I was born in Uttar Pradesh, Northern India and I spent all of my childhood in this area. I completed my LLB and I joined Singhania and worked in their office in New Delhi. My life took me to London and I head the office here. I am joined with my wife and my 10 year old son who studies in the UK. I do not have many regrets in life and I believe that I have achieved a lot coming as an immigrant to a country which demands a lot from its immigrant community.
What is your definition of success?
I see success through a psychological lense. I believe in equality of opportunity and I believe that everyone should be given the same life chances, however, success is best achieved through mental strength. If you believe that you can be successful and if you put yourself to any task without thinking about the barriers physical or mental that you may face, then you can achieve what you want to achieve.
Can you please share with us some of your significant achievements & their impact?
I have come a long way from where I started in a village in UP. It has been a fulfilling journey so far and I am happy with what I have achieved so far. Some of my achievements include assisting Andhra Pradesh government in Smart City projects, creating an Indo-EU business forum, being a chief coordinator of Pravasi Bharatiya Divas in 2014, Former advisor on Emerging Markets to Nick Clegg, Former Deputy Prime Minister of UK.
I have thoroughly enjoyed every role that I have played so far. I will continue working with more energy and support sustainable business initiatives for common good.
How was your tenure as the Chairman ABA at London Chamber of Commerce? You're currently the chairman of Assocham London, how is it going?
In that time, I introduced the LCoC to 100 new members which had never been seen before. I bought royalty, Hinduja brothers, Modi and very high profile business people. I took the LCoC to another level.
I am enjoying my tenure as the chairman of Assocham London and I hold various events with high-level business people to raise India's profile in European markets.
Are you taking any initiatives to promote Indian businesses in UK & Europe? Would you like to talk about them?
Through the Indo-EU business forum which I founded, I have been able to enhance India's standing within European and British markets. As the main partner at the Indian law firm Singhania and co in London, I have managed to connect myself with top Indian players.
More importantly, I have managed to persuade many of them to invest in the UK and Europe. I am a foreign policy advisor and I am very close to Prime Minister, Narendra Modi's inner circle. I work very closely with him on his 'Make in India' initiative.
What measures should an Indian business take to succeed in the UK & European markets? What are the avenues for them to leverage?
There will be a lot of unpredictability on the European continent as Brexit approaches us. The negotiations are not going very well for both Britain and the EU. The best thing for Indian businesses would be to try and get ahead of the game. What I mean by this is that Indian businesses should use their leverage to lobby the British governments and the EU governments to best suit their needs.
It is very important for Indian business to get their voice heard especially because India is the 3rd largest FDI investor to the UK and so the UK relies on Indian businesses for investment and income.
What would be your advice to companies with global business ambitions?
Always stay humble and never get ahead of oneself. Commercial awareness, networking, drive, and most importantly, realism are the necessary characteristics for any business to go global.
Tell us about your struggles and failures.
I was born and brought up in an extremely remote village in Uttar Pradesh, India. I did not come a very affluent family and I went to a modest school. But these things merely decided where I started, not where I would finish in my life.
"Failure will never overtake me if my determination to succeed is strong enough."
– Og Mandino
What are the most important lessons you learnt from them?
"See the good in people and help them." Mahatma Gandhi. I learn a lot of my lessons from Gandhi as he has one of the most inspiring stories in the history of mankind. I use this quotation to drive my life whether it is in the office at Singhania or whether it is guiding my 10 year old son through life.
As Gandhi himself said, I like to see good qualities in people, and I always do my best to help them.
What next? Do you have any special message that you want to share?
I want Singhania and Co to expand, and on a personal level, I am looking forward to India's progress on an economic and political level. I am excited to see India grow under the 'Make in India' strategy and under Prime Minister, Narendra Modi.
"The woods are lovely, dark and deep. But I have promises to keep, and miles to go before I sleep."
– Robert Frost