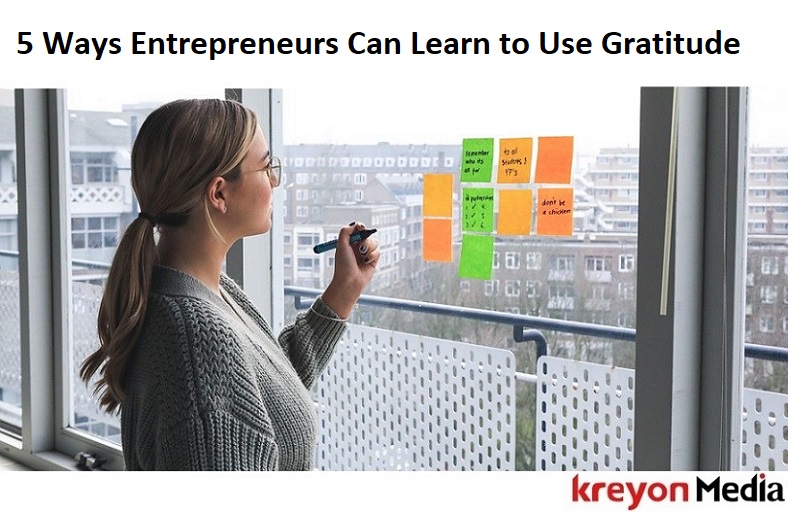 Human nature is rooted in wanting more than you already have. People are constantly trying to push their boundaries to achieve more. More so, if you are an entrepreneur. Entrepreneurs who use gratitude to take their success to another level.
You are expected to run an enterprise, build systems and grow your entity to serve larger interests of people around you. It takes hustle and running around your goals day in day out. So, when does one get the time to thank for all that is going well in your life.
Gratitude is a powerful force that helps you connect with others, look at the brighter aspects of life and take a break from a relentless pursuit of your goals.
Here's a look at how entrepreneurs can use gratitude to build more purposeful companies and become more balanced in their day lives.
1. Gratitude is a Mindset
Your perspective of things matters in business. You may be presented with a challenging situation, but practising gratitude can help you reassess things in a pragmatic way. When your key employees leave, it could be a time to groom a younger employee and in some cases take ownership of things yourself.
By taking an approach of gratitude, you can focus on the good things and thank those who are responsible for them. It creates a difference, your mental energies are system work the best when you are joyful, according to scientific studies. So, when you adopt an attitude of thankfulness, gratitude and joy, it helps those around you to focus on their work too.
2. Make a List

As humans we are hardwired to count things that are not going well for us. Entrepreneurs are driven by lists and todo items to meet their day to day needs. However, a simple list of items that worked well and things that you're thankful for could give your brain a boost.
Creating lists forces your brain to think of the pleasant & positive things in your day. It helps you release chemicals in your brain that create a feel good factor. Entrepreneurs need to see possibilities and writing down 3 things everyday for which you are grateful can do miracles for your well being.
A habit of writing a gratitude journal everyday is a powerful tool used by many successful entrepreneurs.
3. Impact on Relationships & Health
Taking care of relationships and health is one of the top priorities for an entrepreneur. When you maintain good relationships with your customers, employees, vendors and others around you, it certainly helps you build your business better.
A habit of practising gratitude leads to positivity in a person. It helps them connect with others and see things in a broader context. A study was conducted at the University of California by Robert A. Emmons to understand the effects of gratitude. The impact of gratitude was studied on health, psychological well being & relationships. Here's what Robert & his team found:
Physical Health
Stronger immune system.
Better handle aches and pains.
Lower blood pressure and stress.
Exercise more and take better care of their health.
Sleep longer and feel more refreshed upon waking.
Psychological health
Higher levels of positive emotions & healthy attitude.
More alert, alive, and awake.
More joyful, optimistic, happiness, and pleasure.
Relationships with Others
More helpful, generous, and compassionate.
More forgiving.
Feel less lonely and isolated.
4. Doing What You Love

Entrepreneurs are building and doing things they love most of the time. It is a rare privilege. It has its own hurdles and challenges, but the most important thing is that you are doing what you always wanted to do.
Every job has certain elements that you don't like. Entrepreneurship is no different. The successful entrepreneurs learn to be grateful for the things that have worked for them. While sales quota can always be higher, the teams can always ship better quality products & do them faster, but so many things worked well. So many people spend their lives running away from things they are doing. Yet as an entrepreneur, you have escaped from that trap.
5. Team
71% of the American workforce don't feel motivated at work. Employee disengagement is one of the biggest hurdles for modern businesses. Preston did a study and found that feeling unappreciated is one of the top reasons for employee disengagement at work.
Gratitude has a positive impact on employees. Psychological Science conducted a study and found that employees feel more trusted, are more satisfied, perform better & practice more loyalty, when they are appreciated.
When your team misses a deadline, it is natural for you to be disappointed. You may shout and display your anger at them. But this is a moment that separates the ordinary entrepreneurs from the extra-ordinary ones. The best entrepreneurs back their team, they thank the employees for trying their best and all the work they did instead of rebuking them for missing the deadline. Employees feel empowered and energized when they have a leader who practices gratitude. Gratitude can help you build great teams that go out of the way to support each other.