Digital leaders are driven by challenges and change. The leadership skills required to navigate different times change with time. A few decades back, leadership skills were different compared to what is needed today. As times change, the best leaders learn to move ahead with things they need to learn, help others grow and create results that make a massive impact. Whether it is Abraham Lincoln who led the US during the Civil War and held it together or Gandhi who was synonymous with India's freedom struggle, every leader shares some common skills and traits for his time.
While the digital world is driven by machines, algorithms and data, but human beings are still the center of everything. Digital leaders who understand this and pay attention to things around them excel more than others. Here are skills all great leaders share for succeeding in the digital world:
1. Build Networks & Collaborate
No one succeeds in a silo. Digital leaders are well equipped at building their own networks and collaborating with others. They know when and how they need to collaborate. They are proactive at managing their relationships in the digital world and navigate boundaries to connect with others.
These networks and collaborations often bring about surprising opportunities. As the pace of change is fast, new opportunities can arise from unknown quarters. Successful digital leaders have an open minded approach to collaborate, seize valuable initiatives and never rest on what's been achieved.
2. Think Ahead

The future comes faster than you can imagine. Thinking ahead is the only way you can survive as a leader. You have to know which way things are moving and play the lead role. You cannot be successful in every attempt, but great leaders are right more often than not. They are able to make the bets that pay off in the long run.
Thinking ahead and being proactive is a more important skill than ever. Industries change at the drop of a hat in the technology driven world. If leaders are unable to maintain pace, they get left behind. Great leaders innovate, stay ahead and are involved in building the future.
3. Vision to Execution
You can have the best vision, but without execution it means nothing. Great leaders know how to execute their vision. Execution is what separates the best leaders. The ability to pick up finer details on what needs to be achieved is the hallmark of great leaders. No matter which field you're working for, the ability to see things that others miss makes a difference.
Great leaders take responsibility and deliver what's needed. They are able to rally teams, help and support them to meet the desired goals.
4. Unconventional & Original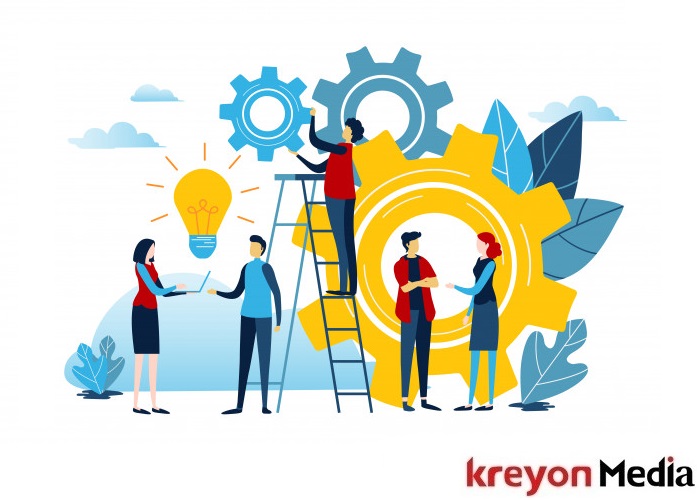 The digital world rewards unconventional and original ideas that makes life easier for others. When Google was started, it had a brilliant idea to organise the world's information. Amazon was an idea that made it easier for people to order things from their homes & Uber made taxi booking seamless.
Digital tools and technologies have made it easier for people to try out new things. Great leaders are driven by the ability to create, build original stuff and make an impact. Innovations that help others can reach people at a faster clip than ever. The tools and technologies have made it easier to touch more people in less time.
5. Inspire & Empower
"Leadership is no longer hierarchical – it needs participation, involvement and contribution from everyone."
Apoorve Dubey, CEO, Kreyon Systems
The digital tools and technologies have made it easier for people to work from anywhere. There are a growing number of teams working remotely and across the borders of countries. In such a situation, leadership plays a crucial role. Great leaders are able to drive their mission by inspiring and empowering their people.
They let others take control and give them the freedom needed to achieve what they wish to accomplish. The digital leaders inspire teams, let them take control of things and willing to take a backseat for their mission.
6. Stay Informed & Upto Date

You cannot lead the future with the tools of yesterday. Digital leaders need to learn, stay informed and up to date with the world. The best leaders are aware of the trends that matter in their industries, at the same time they are also looking at other industries to learn the best ideas. The ability to connect ideas from various fields and bring them together is more valuable than ever now.
7. Understand People
A leader who understands all the technologies, but fails to understand his people will rarely succeed. As a leader, you need to know the needs and wants of your team. The ability to connect and understand your people is crucial to unlocking the best from your teams.
The growing number of tools for communication often don't allow interpersonal relationship development. But successful digital leaders have a way to communicate, connect and establish bonds with their people.
8. Crisis Management

A leader is someone whom people can look upto in times of trouble. When the going is tough and teams are struggling, a leader needs to show the way forward. The ability of a leader to navigate crisis, hurdles and difficult situations is decisive.
The best leaders learn to develop mental tools that help them face challenges. They learn about applying these mental models to navigate problems. The digital leaders are not afraid to ask for help from their teams. Infact, they proactively involve their teams and brainstorm for finding the best way forward. Whether it is the technology, tools or people, there are oftentimes when you're faced with uncertainties, volatility and hard challenges. Successful digital leaders are able to solve problems and keep moving forward.
9. Co-Create the Future
"Leaders must be able to build organizations that are agile and can routinely innovate. People don't want to follow a leader to the future – that is yesterday's model. They want to co-create it."
Linda Hill, Harvard Business Prof
The digital world is different, the youth today want to be involved in something that is meaningful and make a difference. They want to be part of things that will bring about this transformation. They don't want to follow, but co-create and build things together.
This is a remarkable step for leaders to understand the aspirations of their teams. Leaders want to empower their people, make them accountable and take lead roles in various activities. No one knows all the answers, but the team can always crack all the answers based on the strength of all. Innovations and building the future requires one to build a platform and let others take the center stage.